---
Worship: 10:00 on Sunday Mornings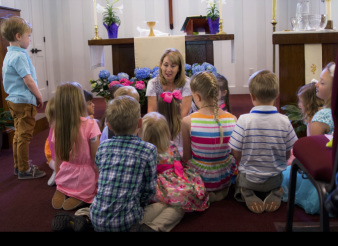 Spirit of Peace gathers at 10:00 AM each Sunday to worship the Lord and celebrate Holy Communion. Here we come into God's presence, receiving grace with grateful hearts as we remember all that Jesus Christ has done for us and for our salvation! As the Holy Spirit calls and enlightens us through the Word, God's gifts of faith, hope and love grow in our daily lives.

Our all-inclusive bulletins help everyone participate fully in the service; and the children are welcomed and encouraged to participate in the Word for God's Children during worship. Worship setting is informal, personal, joyful, and respectful.

---
A Nursery is provided during Worship
A "Children's Sermon" is during worship just before the reading of Scripture and the Sermon.
All children are invited to come up and participate!
---
Prayer Request
Going through difficult times? Let us know and we will pray for you! If you would like a special visit from Pastor Terri, please let her know. If you would like your prayer to be confidential, let us know that as well.
Submit a Prayer Request